Argan Oil – Morocco's desert gold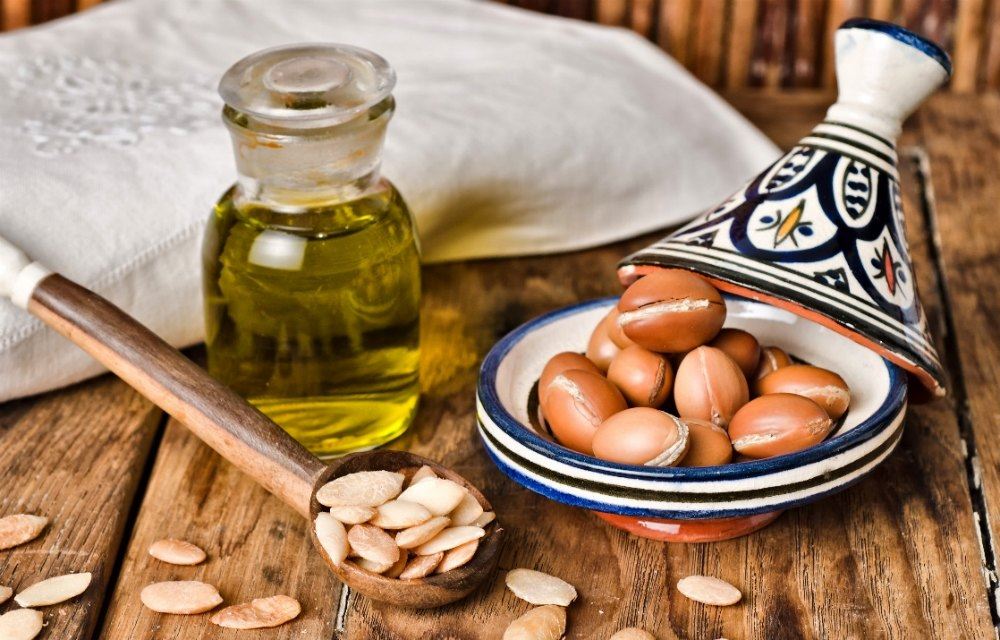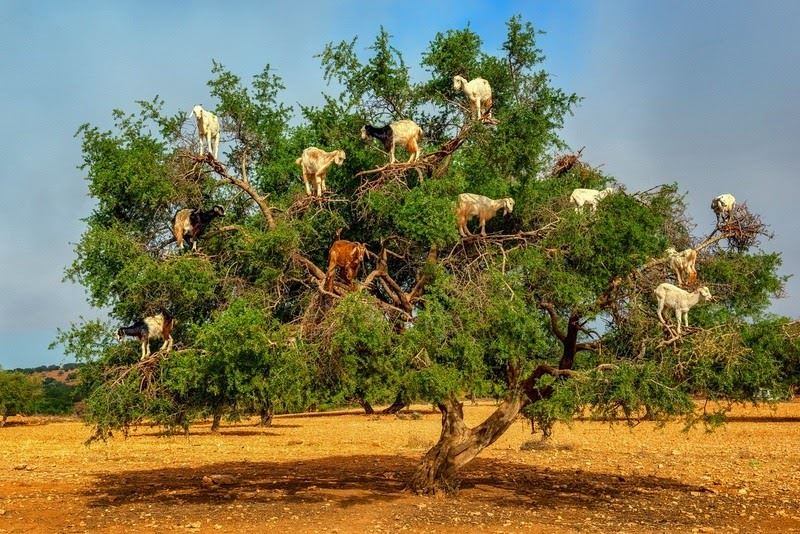 Argan Oil – Morocco's desert gold
Argan oil is becoming more and more popular in health and beauty as well as culinary uses; Argan comes from a nut which comes from tree the "argania spinose" which only grows in one Region of Morocco where the perfect conditions of Essaouira and Agadir allow the tree to grow.
The nut is fond within three layers a tough outside which covers a fleshy middle the nut has one to three kernels inside this is what is used in the processing of Argan oil after harvesting the outer casing is removed along with the flesh this is then used as animal feed then the nut has to be cracked normally by hand as no mechanical means as yet has been successful.
Once the nut and its shell have been separated the process of making them into oil begins, two separate process for two types of oil firstly the Cosmetic oil which is used as a skin moisturiser and to nourish the skin the cosmetic oil is made by pressing the raw nut once it is pressed the oil is left to settle for a few weeks so that any sediment can sink to the bottom. The oil may be further purified depending on the use. To make Culinary Argan oil the nuts are first roasted, often when you walk around the area where Argan is being produced you might smell a popcorn smell this is often the smell of the kernels being slowly roasted over a low heat, once roasted they are then pressed to extract the oil.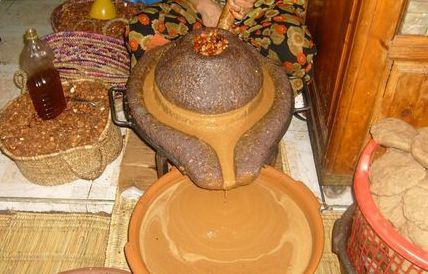 Culinary Uses
Culinary Argan has many uses it can be used as a dip or as a salad dressing with Its slightly nutty flavour and aroma it is a great compliment to many dishes it is often mixed with almonds and honey to make a sort of almond butter research suggests that it is helpful at reducing cholesterol which is another good region to enjoy a salad drizzled in Argan oil.
Cosmetic Uses
Cosmetically it is believed Argan oil can help moisturise and nourish the skin and hair, it is also found in small quantities within cosmetic products to get the best effect you need to use higher levels of Argan always check the label be careful not to pay a high price for a product "containing" Argan if it is in very small quantities.
Helpful tips not to get convinced to buying non authentic Argan oil
-Cheap it's unlikely even in Morocco close to where it is produced to get Argan at a rock bottom price, expect to pay a reasonable rate but be aware of paying an extremely high price for a very small amount or Argan oil contained within
-Check the label check the amount of Argan oil if its 100% Argan oil why would there be other such ingredients such as fragrances, water or preservatives? It should be simply Argan oil or sometimes written "Argania Spinosa Kernel Oil"
-Dark Bottle as Argan oil degenerates in light so it is always sold in a dark brown glass bottle or pot
-Smell it as genuine Argan oil has a light nutty scent the stronger the smell the worse the quality and authenticity of the Oil it should not smell of any other oils like vegetable oil etc.
Colour culinary Argan oil looks is usually a golden brown colour, whereas Cosmetic Argan is a light, golden shade of yellow if it looks too light it is possibly diluted
-Feel it as Argan oil feels smooth and non-greasy if it is slightly slimy it is possibly not Authentic if the seller is selling genuine products they would be happy for you to smell, look, and feel the product and sample it before you buy.
Like with buying any product abroad that has a high value you should always check before you buy, take your time check out all the traders and go back when you are satisfied, you will get an understanding of the genuine sellers and the ones who just want to make a quick buck.

Moroccan Odyssey - Morocco Private Tours offer the best Essaouira Argan Oil Tour from Marrakech please check our Day Trip and Excursion about itinerary details.