Moroccan Dishes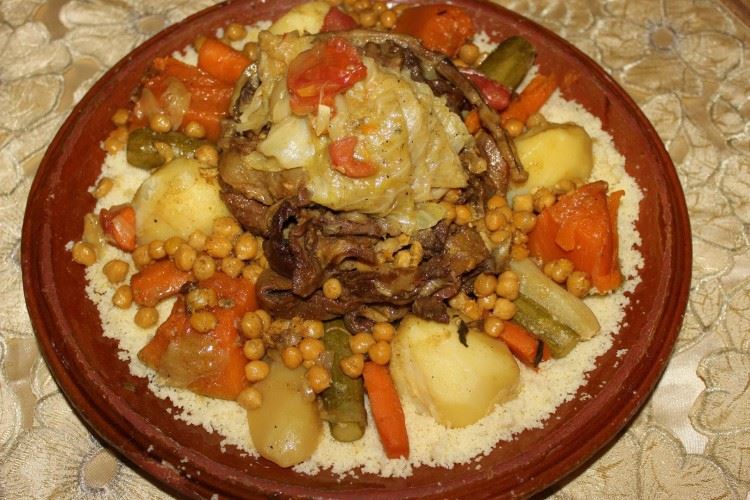 Tasty must try Moroccan dishes
Moroccans place food as an important part of their culture its more than just the food it's about hospitality intense flavours and of course enjoying with family, friends or even strangers.
Moroccans food culture is influenced by many other cultures from Arabic, Berber, Andalusian, and France creating a unique mix of flavours best enjoyed at home rather than a restaurant so to gain the unique and genuine flavour try to eat with a family or the very least a family owned restaurant.
Zaalouk
Traditionally a side dish or served as a dip with crusty bread is an aubergine based cooked salad with tomatoes, garlic, olive oil and spices.
It is the perfect accompaniment to add a bit of spice to your dish often served on your plate with other dishes.
Tagine
This dish is named after the cookware it is cooked in a Tagine a round ceramic dish with a cone shaped dome top. The tagine is then heated slowly over a flame on a grill or in an oven for a few hours.
Tagine is typically a meat stew consisting of either chicken or fish or another red meat it is often stewed slowly for a few hours with vegetables but these can also be served separate and always served with a wedge of bread.
B'ssara
This bean soup is often eaten in the morning as great for breakfast on the go sold at most street side venders often served with a wedge of fresh bread sometimes drizzled with olive oil and dusted with paprika it is a great start to the day and will be sure to keep you energetic and satisfied until lunch.
Fish Chermoula
Mostly common on the Moroccan coastline you can sit back and enjoy fresh fish cooked with a Chermoula marinade this dish is one of our favourites after a day traveling if ever we are by the coast we look forward to this refreshing and sometimes spicy dish whilst enjoying a glass of white wine. The fish is marinated before it is cooked in a paste like marinade of herbs and spices (Chermoula) the marinade is also sometimes served with your meal as a dip.
Couscous
Probably the most popular and renowned Moroccan dish which recently has become very popular in the western world as a healthy choice dating back to the 13th Century in Morocco it is not eaten as commonly as people think due to the time it takes to prepare and is often saved for special occasions, weddings ending the Ramadan feast and other religious festivals. It is often served as a side or a main dish with meat and vegetables but is sometimes also used in soups and salads it can be found in most restaurants in Morocco.
B'stilla
This traditional dish has a rather unique taste of savoury and sweet together, almonds, cinnamon, ginger and other spices mixed with either Pigeon or Chicken wrapped in a thin pastry case thought to have come to Morocco from Arabic routes it is typically served at weddings or other celebrations but has now become a common street food.
Harira
This dish has Berber influence and is a soup often differing between regions of Morocco but often with the same basic ingredients lentils, chickpeas, tomatoes, spices, small pieces of lamb or chicken and a squeeze of lemon juice. Harira is a hearty soup often filling and can be eaten as a main meal often eaten to break the fast of Ramadan.
Mint Tea
Morocco's national drink mint tea often served sweet is enjoyed at almost any opportunity and especially after meals to refresh you from your feast the tea is served as part of Moroccan hospitality so it is highly likely you will encounter it and share it with new friends on your travels, preparing this delightful and refreshing drink is an art form and often poured from a great height to encourage a froth.
If any of these dishes have set your taste buds into over drive we at Moroccan Odyssey can help you find somewhere to enjoy these great dishes or why not have a go at making them yourself on one of many cookery classes held around the main cities of Morocco? Interested? Contact our Travel designers today.