Essaouira morocco's hip side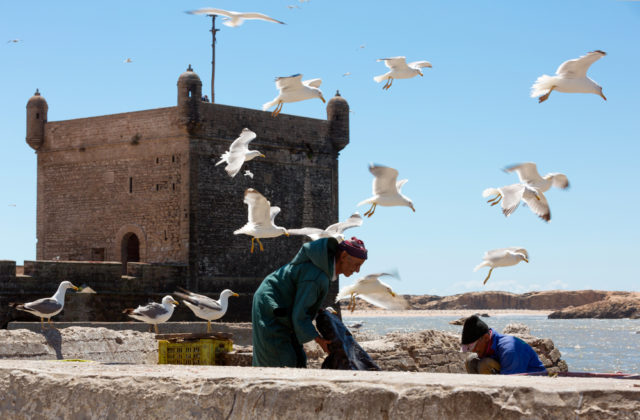 ESSAOUIRA: MOROCCO'S HIP SIDE
Essaouira the white-washed Atlantic coastal village, home of Artists and Artisans also known as the windy city a great spot for windsurfing and sailing is our top pick only two and a half hours from Marrakech by bus an ideal place for a different Moroccan experience.
This smaller city is much easier to explore with a 10 percent smaller population than nearby Marrakech with a distinct Moroccan style walled medina, souks and narrow alleys and Berber influence but with a vibrant artistic and young vibe.
We have put together a few places you can visit around Essaouira
Art Galleries
As you can expect from a city welcoming artists many small studios and galleries are found all over the best way to find something you might like is to wonder through the main square to get a feel of the creativity you will find many of street activists as well as much more established galleries with plenty of photographic murals and graffiti on the sides of buildings and decorations made of wood and pottery along the pavements.
A great gallery to visit is the Galerie d'Art Frederic Damgaard (Avenue Okba Ibn Nafia) the entrance is free and it has a great selection of local artists work and things for sale or The Association Tilal (2 Rue du Caire) which exhibits about half a dozen of painters with a distinctive local style. The Espace Othello (9 Rue Mohammed Layachi) has an interesting story of its begging's starting from an exhibit in a local restaurant to the location of Orson Welles's 1952 film "Othello", now its own gallery displaying paintings and sculptures of local artists.
Some other galleries worth a visit are Galerie Empreinte, Galerie d'Art Bab Sbaa and Galerie La Kasbah found in the medina area.
Note: Most shops and galleries close in Morocco around 1-3pm
The crafts of the Artisan's
Essaouira is also famous for handicrafts as well as paintings, sculptures and other fine arts. The woodcarvings and cabinets with complex marquetry inlays are found along the Skala de la Ville where a number of workshops specialise in this traditional craft. The traditional woodcarvings done in the past were made with the local "endangered" thuya wood nowadays you generally find the carvings are made out of other woods ebony or walnut. Please be mindful if you do see any carvings made out of thuya it causes threat to the existing few trees and can encourage illegal logging. There are also many other places to peruse or purchase local artisan crafts for example shoes woven from the fibres of "doum palms" these can be found at Rafia Craft (82 Rue d'Agadir) if you want to shop for local home décor, towels and locally made linens then Boutique Kif Kif (204 Place du Marché aux Grains) is a good place to look around, If its rugs you are looking to take back or look at Galerie Jama (22 Rue Ibnou Rochd) has high quality rugs made by Mustapha el Boussaidi, who has a few years' experience in making tribal carpets as he started making them from the age of 11. The multi-levelled Jama located in an old house has a pleasant selection of pottery, silks and other objets d'arts.
Essaouira Tones
Essaouira is not just about visual arts it also has a musical tone like other cultural hotspots a wide range of music culture is present in Essaouira with the more traditional styles like Gnaoua and Sufi a religious and mystical sound or Alizés and Printemps classical music or modern dance and jazz or even reggae tunes. The Caravane Café (2 bis Rue Qadi Ayad) is often visited by musicians and has a modern cosmopolitan hip vibe.
The Gnaoua World Music Festival is Essaouira's most famous music event held in May or June every year attracts musical artists from all over the world Dubbed the "Moroccan Woodstock," this festival is the festival is fusion of Gnaoua masters next to foreign rock, jazz and reggae musicians. This festival attracts about half a million visitors each year and lasts for about four days you can buy a 1 day or 4 day pass however many of the performances are free to attend.
Some other Attractions
Essaouira has much culture, music and art however there is other things to keep you busy like wind surfing or kite surfing made possible with the strong Atlantic breezes or you could try some other popular activities like cookery courses, photographic tours or mountain biking excursions. You can visit Morocco Tours
---