Marrakech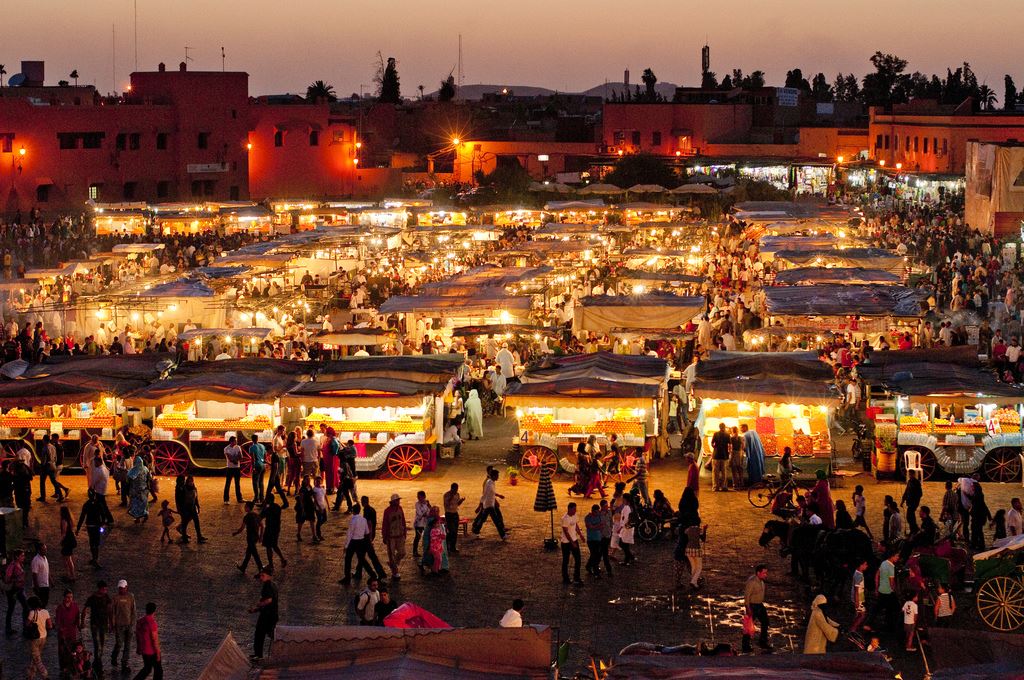 Marrakesh is one of many bustling major cities of Morocco with its busy sleepless main square where you will find many street vendors, entertainers, snake charmers, food stalls, monuments and museums awaiting discovery.

Marrakesh offers travellers a vast wealth of shops and cafes all situated within the backdrop of the Atlas Mountains offering a vast wealth of history and almost year round sunshine, stroll down the labyrinth of old medina streets and follow the footsteps of local and foreign traders choosing Marakesh as a place to do business for over thousands of years.
The walled city bustles and is full of energy but there is always time to relax and soak up the smell of spices enjoy an Arabic coffee in the many outdoor cafes, share stories and absorb the rich culture and cuisine.
Enjoy a stroll around the old town and discover the many old houses which have now been transformed into guest houses accommodating travellers who wish to soak up the traditional and historical way of life.
Marakesh was founded by the Almoravids around 1062 its rapid growth turned it into a religious, cultural and major trading centre this growth declined until it resurged in the 16th century benefiting from the reign of the wealthy sultans of the Saadian dynasty building many magnificent palaces like the El Badi Palace its construction was funded by a large ransom paid by the Portuguese following the battle of the three kings.
The Modern Markesh offers hundreds of boutique hotels, holiday and retirement homes for many Europeans it was chosen by the famous designer Yves Saint-Laurent to spend his twilight years and the former French President Nicolas Sarkozy who has recently invested in property.
Marakesh is a gateway to culture where you will never get bored but highly likely to get lost in a cultural vibrant rich in traditional, modern, European or Arabic cultures. A surprise waits around every corner with the call of the mosques reminding you of its Islamic routes. Explore the many Souks (markets) and be prepared to barter as there is no set price for goods and where even directions will come with a price tag.
---