Wandering Fes's Famous Souk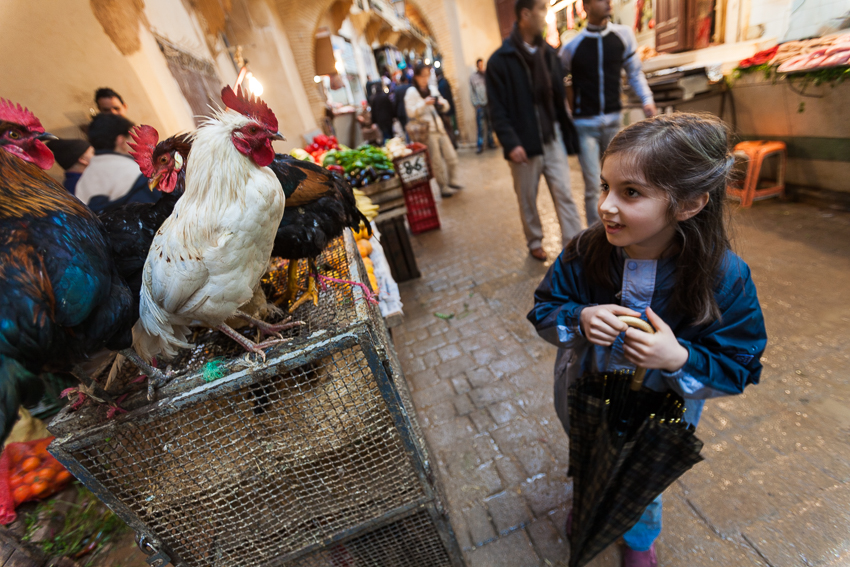 Having a good sense of direction will soon be put to the test in the main souk of Fes with its tight pathways, high walls and awnings blocking out the sky your internal compass will be soon spinning leaving you disoriented however being lost does not mean being hopeless it gives you the opportunity to realise that there is many things waiting to be found or discovered.
A souk is what we would describe as an open air market they are typically found in North Africa and middle eastern countries and have often existed and been trading for centuries. Fes the second largest city in Morocco and once the countries capital, The Souk is a maze of shops full of any possible household item you would ever need and even things you didn't know you have a need for the souk will amaze you with freshly butchered meat being sold next door to a lamp shop just across from a rug seller or coppersmith mixed in with cages of live chickens or tables piled with fresh vegetables and fruits.
Most souks are usually divided with sections concentrating on one type of good or another amongst all the stalls are entrances to mosques, restaurants and schools if you have no desire to shop the Fes souk is a feast for the senses and a true taste of Moroccan life not to be missed.
The first sense to go into overdrive is your sight with the household wares, carpets and fabrics holding every colour imaginable alongside the bright fresh fruit and vegetables enough to make your mouth water, then there is the taste with many stalls offering you to try their edible goods as well as the many restaurants where you can stop for a quick bite kabobs or bisteeya (a delicious triple-layer pastry filled with almonds, chicken and a lemon-onion sauce) is a traditional snack to try.
On your way around you will have many opportunity to sample the mint tea as businesses are hoping you will sit enjoy the tea and decide to part with your money and purchase something from them, the spice stalls offer a feast for the eye and alerting the smell senses which will be working in overdrive as you move stall to stall the aromas fill the air from incense to caged chickens to meat and the sweet scent of the fruit and vegetables. Then the rug shops have an aroma of dyes and kerosene sometimes used to keep the sewing needles clean.
Touch is another sense in use as you visit the souk strolling around the rug shops an inexpensive everyday rug you will be able to feel the rough scratchy threads unrefined but if the merchant shows you one of the "special" rugs he keeps in the back it feels like your tickling a cloud as your hands glide over the tender fibres , another is the streets cobbles that will keep your touch senses alerted the cobbles centuries old broken and repaired and broken again after years of being trodden will remind you of your visit to the souk later in the evening especially if you strolled around in your beach sandals.
When you close your eyes and stand in the middle of it all your last sense the sense of sound is brought to life as the Moroccan dialect of Arabic is shouted as merchants try to call you into their shops or make a deal with someone at a stall, knives being sharpened, a cart wobbles over the well warn cobbles and flat screen TVS blurting out the news or a mobile phone rings in a contrast of modern meeting historical the sound of a bustling and traditional Moroccan day.
The first visit to the main souk in Fes is like an explosion to the senses that can make you feel a little dizzy and dazzled as your senses are alerted and shocked into your new surroundings take a few moments to become used to your environment before you venture and experience the variety and activity
Once your senses calm down and you feel the liveliness, rhythm and warmth of this open air market you will want to talk around for hours, around every corner is always a new treat every time you return to the Souk there is always something new or something you missed the time before it is a unique special place that captivates, entertains and surprises visitors time and again.
You can visit Morocco Tours
---