Fes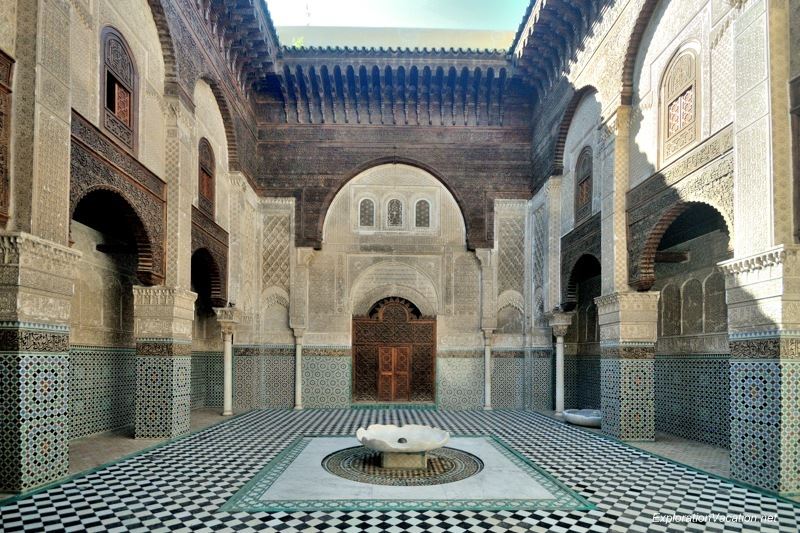 Entering this medieval city under the famous Bab Boujeloud blue gate you will observe that this UNESCO world heritage site is the largest carless urban area in the world, strolling down the mystical narrow streets you will soon notice the cafes and markets make way for children playing and donkeys working in the narrow mudbrick passages.
The city of Fes (Fez) was founded in the early 9th century by Idriss Ben Abdallah's (who was a descendant of the prophet Mohammed) Son Idriss the second. The city soon attracted more than nearly 8000 Arab families who were expelled from Spain. This is today the old city, or the Fes-el-Bali, until the late 19th Century was the only place in the world where the Fez hat was made.
Fez is the oldest and second largest imperial city of Morocco where you can follow the pungent fragrance to the tanner's corner observing the barefoot workers paddling in the many dying pits treading hides using medieval techniques involving cow urine and acidic pigeon excrement there is many leather souvenir shops where you will need to haggle for a bargain.
If a smelly visit to the tannery is not your cup of tea maybe a wonder around the old city where you will get lost in the labyrinth of streets where you can see vibrant coloured rugs and carpets, meet Camel butchers, see traditional bakers and potters walk through the Jnan Sbil Gardens and enjoy the symmetrical flower beds, palm trees and weeping willows allowing you to refresh from the excitement of the bustling streets.
Old meets new historical streets, market places and shops mix into modern shops, hotels and a commercial centre there is plenty to do eat in a roof top restaurant overlooking the stunning views of the city below, visit the many souvenir shops or see inside one of the cities many historical Islamic schools or buy some typical blue pottery which the city is famous for.
---