Zagora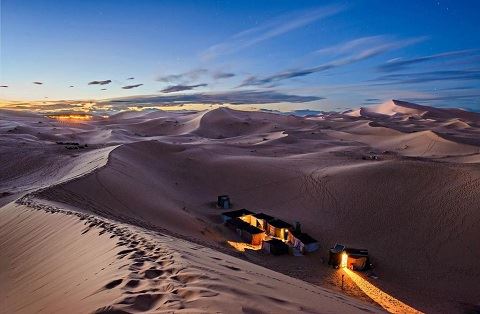 The original, iconic "Tombouctou, 52 jours" ("Timbuktu, 52 days") sign, featuring a nomad with a smirking camel, may have been swept away in an inexplicable government beautification scheme, but Zagora's fame as a desert outpost remains indelible. The Saadians launched their expedition to conquer Timbuktu here in 1591, and desert caravans passing through Zagora gave this isolated spot a cosmopolitan character. Today Zagora remains a trading post and meeting place, hosting a regional souq on Wednesday and Sunday and putting on a variety of lively festivals.
Eight kilometres north of town, below a spectacular view point over the palmeraie (palm grove), stands the Musée des Arts et Traditions de la Valleé du Drâa, housed in a three-story mudbrick home. In the tea salon, you will find key equipment for desert entertaining circa 1930: a vintage ham radio, a gramophone, and tea glasses believed to shatter on contact with poison. Artifacts are tagged with insightful explanations of their origins and purpose in French and English, very helpful for explaining otherwise mysterious tattooing implements, the intriguing birthing room, and markedly different wedding garments from five local tribes.
Zagora's desert-crossroads culture can be glimpsed in the adjacent village (south of downtown Zagora, across the Oued Drâa) named Amezrou, where artisans in the historic mellah (Jewish quarter) work good-luck charms from African, Berber, Jewish, and Muslim traditions into their designs. In the 1930s, Amezrou had some four hundred Jewish households, but almost all had left town by the 1960s. A tiny synagogue stands nearby.
Jebel Zagora, a spectacularly beautiful mountain, rises over the Oued Drâa, definitely worth climbing for the views, provided you have stamina, water, and sunblock, and set off in the early morning. The round trip to Jebel Zagora takes about three hours on foot, or forty-five minutes by car. Halfway up are the faint ruins of an eleventh-century Almoravid fortress.

---