Morocco Tours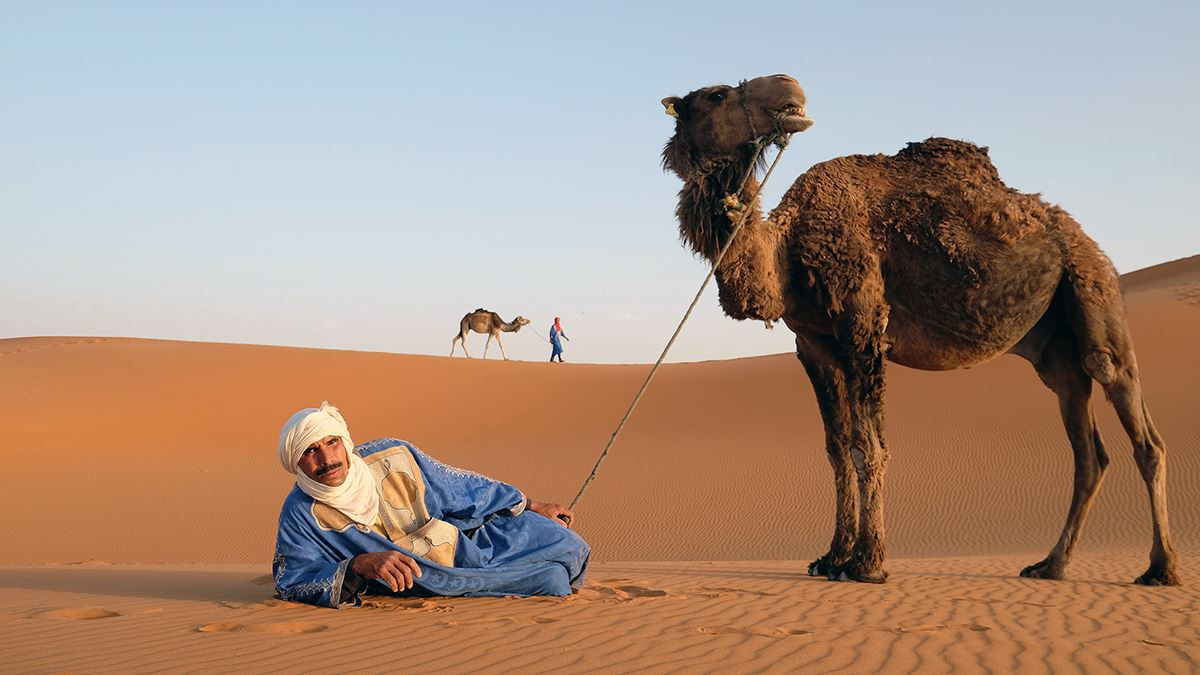 Casablanca
Morocco's largest most cosmopolitan city with the must see Hassan II Mosque which is truly amazing. Casablanca has a lively night life with many night clubs and bars waiting for you to let your hair down, or if dancing to the early hours is not for you the city has many recognised branded shops, boutiques and market stall where you can browse for all of your holiday gifts.

Mosque of Hassan II
This is one of few Mosques in Morocco non-Muslims may enter so it is a real opportunity to see inside Islam and discover the magnificence and beauty of this building with its many mosaics, carved wood celling and sculptures it is the largest mosque in the world with space for 100,000 worshipers.

Rick's Café Casablanca
This sort after dinning venue where good food meets good architecture service and elegance is the must visit, stay and enjoy venue customers are often mesmerised by the interior décor losing track of time and being transformed into the glamor of a film set.

Museum of Moroccan Judaism
This thoughtfully curated Museum based within a beautiful garden villa which once was a Jewish orphanage is the only Jewish Museum within the Arab speaking world tracing 2000 years of Judaism in Morocco. Including a well-documented collection of tools, ritual objects and clothes from local Jewish history.

Habous
The Habous quarter often referred to as the new Medina an area of the city built by the French in the 1930s offering a fabulous selection of French and Moroccan architecture, unmissable sites and plenty to see and do.

Rabat
This charming city with palm lined clean streets a fresh relief from the bustle of Casablanca, the political and administrative capital city of Morocco boasting a clean beach, walled medina and has very little traffic.

Old Medina Rabat
A labyrinth of windy narrow streets await you in the old medina with many Souks to discover as well as architecture and historical passageways and traditional shops to explore with most of the prices fixed you can stroll through relatively hassle-free without the need to haggle for your souvenirs, tea pots, leather goods and traditional gifts.

Chellah
This designated world heritage site is the remains of a walled fortress roman city much of the walls remain until this day the ruins now surrounded and overgrown with flowers and shrubs as well as the odd stalks nest overlooking the river is an ideal tranquil spot to explore and discover the atmospheric feeling.

Oudaïa Kasbah
This picturesque part of the city is like stepping into a bright new world a city within a city all the houses mostly built by Spanish Muslim refugees look like they have just been white washed and elegantly decorated with bright blue paint. Enjoy the calmer quieter streets as you head to the highest point to appreciate the views of the Atlantic Ocean.

Royal Palace of Rabat & Gardens
In the heart of the Medina of Rebat lies the royal palace with its relaxed open fronted gardens allowing you to stroll quite close to the palace it's a stunning architectural masterpiece where there is more to be discovered beyond the gates and throughout the kings personal and moderately sized mosque displaying fine examples of Islamic architecture.

Hassan Tower
One of the most mystical places in Morocco an in completed building project of a majestic style this originally planned mosque by Sultan Yacoub al Mansour begging in 1165 but remained incomplete following the sultan's death. Stroll through the many columns erected as part of the mosques construction. The tower dominates nearly all the views of the city.

Chefchaouen
Known as the blue pearl of Morocco this extraordinarily blue town with narrow winding streets of blue painted houses founded in 1471 high in the rif mountains by Jews and Moors fleeing from Spain with its tranquil atmosphere lovely hiking trails and relaxing atmosphere is becoming a highly sort after tourist destination.

Kasbah Museum of Chefchaouen
This small museum and art gallery set in a beautiful fortified walled garden displays many historical tools, costumes and objects from Moroccan history the building is beautifully restored and offers an insight into Chfchaouen history.

Tangier
Europe's gateway to Africa buzzing with culture this port city had a dubious past enticing eccentric foreigners, artists and spies in present times investment is now creating a sought after destination encouraging entrepreneurs, with a new marina attracting wealth and business with the development of a new business district.

Asilah
This previously Spanish colonised town offering Spanish cuisine at most restaurants boasting many clean beaches to surf and relax and a pretty fortified walled Medina serving as an art hub where you can explore displays of wall painting by African artists.

Roman Ruins of Volubilis
The best preserved Roman ruins within Morocco thought to have been the home for 20,000 Romans even though this site is open to the elements there is still many beautiful mosaics able to be seen with stunning views of the valley below, rich in history and a designated UNESCO world heritage site it is certainly well worth a visit.

Meknes
This smaller city once the home to Morocco's sultans is now a quieter city that is more relaxed than some of the other Moroccan cities with its winding narrow medina streets and majestic buildings appreciate the romantic flavour as you wonder the souks towards the 12th Century Grand Mosque (closed to non-Muslim visitors)

Old Medina of Meknes
Winding down the narrow streets of the Ancient Medina a UNESCO recognised heritage site you will see many souks selling anything from crafts, carpets to fake branded trainers. In The centre of the Medina stands a 12th Century grand mosque. Many hidden court yards tea houses and the Odd working donkey are what make this area so attractive.

Bab el-Khemis
This large flea market previously a camel market is not hugely known by tourists and is an ideal place to pick up all that is second hand at extremely low prices antiques shops and junk shops as far as the eye can see as you pass through the famous "Thursday Gate" named after the day the market used to take place.

Royal Stables of Meknes
The royal stables built for Moulay Ismail were designed to house 12,000 royal horses as you can imagine this fanatical king who cared much for his horses ensured only the very best for them even though some of the site has not withstood the test of time you will be amazed at the scale and grandeur of this place.

Agdal Reservoir
This huge stone lined lake was created as a reservoir for the city as well as a pleasure lake fed by irrigation canals and used to water the Kings garden. A large statue overlooks the lake and offers a pleasant place to stroll often visited by local people picnicking.

Bab el Mansour Gate
This beautiful grand gateway one of four most beautiful gateways in the world built for Sultan Moulay Ismail ordered by him to pay homage to himself but completed after he died this magnificent gate displays magnificent architecture and mosaics.

Moulay Idriss
This beautiful and special spiritual town holding utmost religious importance to Moroccans it's only until most recently non-Muslims have been able to stay in this town after nightfall set between 2 beautiful mountains this picturesque and traditional village is a beautiful place to visit.

The Bou Inania Medressa
This historical religious school which still holds much religious importance to the locals is the most elaborate and magnificent building you should visit in this part of Morocco with its elaborate mosaics and exceptionally beautiful Cedar wood carvings.

Fes
This only car free Urban space makes Fes extremely unique observing a land where time has stood still observing Donkeys and carts moving through the city walls as they did in Ancient times. Fes and its aromas and self-confidence bring a certain appeal to many alike as the many scholars, artisans and Imams previously.

Old Medina of Fes
This 13 gated walled city a UNESCO world heritage site with over 10,000 windy and labyrinth like alley ways is a hustling living and working space for over 200,000 people. Wonder the narrow streets and soak up the atmosphere visit the ancient tanneries and leather goods shops in the city time forgot.

Royal Palace of Fes
This stunning palace with its large brass gates, delicately carved cedar wood, lemon grove and intrinsic mosaics is a breath-taking example of majestic splendour reserved for only royalty, still an active place of stay for the travelling King it is mostly restricted to public visitors.

Jewish Mellah of Fes
In the 14th Century this place was created to offer refuge to thousands of Jews fleeing persecution from the Spanish this Mellah was created with a very different architectural style of the Muslims with its open balconies facing the street, Synagogues and Jewish cemetery.

Ibn Danan Jewish Synagogue
A recently restored 17th Century synagogue with a "Mikva" ritual bath in the basement, Torah scrolls made of Gazelle skin and beautiful architecture can be enjoyed this building is open for visitors if you wish to take a peek inside.

The Tannery of Fes
The most iconic of the cities sights and smells is the tanneries where you can watch the hides being tanned in a mixture of cow's urine and pigeon droppings this rich atmospheric experience is accompanied by high quality leather goods being sold in the walls of the tannery.

Fès el Bali
The oldest part of the medina a UNESCO heritage site little has changed since the medieval times with very narrow streets large enough for foot traffic where scores of shops and souks sell almost anything from spices to souvenirs. You will certainly get a feel for what life was like hundreds of years ago.

Kairaouine Mosque & University
The holiest mosque in Morocco and closed to non-Muslims however has the greatest architecture and minaret towers which can be admired from outside, the University is the oldest educational institution in the world with great views from its pyramid shaped roof and beautiful library waiting to be explored and enjoyed.

Nejjarine Square
The most beautiful historic square close to the carpenters souks and carpenters museum in its centre you can enjoy the Nejjarine water fountain with exquisite tiles and carvings. The square also houses the beautifully preserved 18th century travellers Inn which is now a carpentry museum where you can check out wood carvings and carpentry tools.

Musee Dar el-Batha
This beautifully converted 19th century former summer palace is now the home to exhibits of artefacts, carvings and embroidery as well as displays of fine blue ceramic pottery dating back to the 14th century. An Andalucian-style garden provides much needed calm and tranquillity from the bustle of the medina as well as a backdrop to many open air concerts.

El Mokri Palace
This palace open to public was the residence of Si Tayeb El Mokri a previous minister of finance the palace displays beautiful chandeliers, staircases, glass windows and beautifully carved ceilings a beautiful courtyard and a taste of Morocco at the start of the introduction of European styles.

Ifrane
This alpine town can be compared to the French Alps or Switzerland, clean cool air and streets await you this town was built by the French as a home from home kind of place with imported alpine trees and red roofed alpine houses and forest with even a ski slope it really is like a day trip to the Alps.

Erg Chebbi Dunes
These large sand dunes can be explored by 4x4 jeeps or camels golden sand as far as the eye can see on the border with Algeria this popular desert destination along with the surrounding villages providing popular traditional Moroccan hospitality this is really a not to be missed experience.

Merzouga
The race to watch the sunset on the dunes near the village where the dunes appear to change colour in the sunset best enjoyed with a camel ride into the sunset you can experience a taste of traditional Berber life where most villagers welcome you to enjoy a cup of tea with traditional hospitality.

Risanni
A former 17th century bustling place where slaves and gold were traded following a caravan ride across the dessert a former dessert capital now a small town where a few streets can be seen bustling as well as some souks where haggling and trade can be a reminder of its past.

Erfoud
This town with its palm groves and fossils is well known for its date festival in October and a great pit stop on your travels between fez and Merzouga with a traditional wood fired dish madfouna and its souk selling local produce.

Ouarzazate
Known as the gate way to the dessert this tranquil setting has been the location to many films and has even been named "Ouallywood" with film studios opening here a far reach from a former military outpost and still remains a laid back and calm town despite all the glitz and glamor.

Ait Benhaddou Kasbah
This red mudbrick Ksar has stared in many films such as "Lawrence of Arabia" and "Jesus of Nazareth" it has now earned UNESCO protection dating back to the 17th Century it was a wash of residencies most modest and some castle like all touching and built together.

Skoura
This Oasis town is a great opportunity for travellers to rest following a long journey through the dessert, Palm groves, shops and cafes are waiting for you to explore you can also see the pre Islamic Muslim shrine Marabout Sidi M'Barek.

Todra Gorge
This 300m deep gorge a cut in the orange limestone as you approach the gorge it feels as if the gates to heaven are about to close before you walking up the gorge and maybe even climbing the walls for the seasoned climber is possible.

Dades Valley
Scattered with Palm filled oases with the valley floor being a wash of almond and fig trees offering a spectacular contrast to the rocky formations appearing up from the valley floor it's nicknamed the valley of a thousand Kasbahs with mudbrick palaces and hidden livestock and ancient nomad routes.

Marrakech
This bustling city with gardens palaces and mosques winding narrow alley ways a perfect city to forget time and soak up the atmosphere of Morocco a former imperial city now an economic centre its full of life and opportunities a restless fizzing vibrant place.

Majorelle Gardens
Made in the 1920s this artistic garden offers cooling raised marble pools, fountains, banana trees and coconut palms this is a popular place to visit with its art works on display and attracting some many species of birds.

Koutoubia Mosque
Coming from the Arabic word for bookseller this mosque is named following the many booksellers that used the area to sell their books and scriptures at a time when books were not even known amongst Christian countries this mosque greeted travellers as they entered Marrakech for over 700 years.

Jewish Mellah of Marrakech
This previously large Jewish community has slowly declined following many families abandoning it in the mid-29th century there are still a few families occupying the area with many of the houses still well preserved alongside a synagogue and Jewish cemetery.

El Bahia Palace
This palace built for Ahmed Ibn Moussa was thought to have been completed in 1900 is set in eight hectares of garden with 160 rooms and a harem all lavishly decorated with carved cedar wood ceilings and intrinsic mosaics.

Saadian Tombs
This elaborate burial place with suggestions it was used as early as 1557 and was forgotten about until its re discovery in 1917 these fascinating tombs where riches and luxury were insured even upon death with pure gold to make the chamber of twelve pillars.

Essaouira
This windy coastal town is a refreshing stop from the heat of Marrakech but it is too windy to lie on the beach but you could enjoy windsurfing or a walk within the shelter of the walled medina where you can enjoy a look at the artworks or a browse through the shops.

El Jadida
This popular tourist resort mainly popular with city dwelling Moroccans offers a newly opened beach, casino and golf course as well as a large resort hotel. The town offers the Unesco-listed 16th-century Cité Portugaise with its Ancient Portuguese cistern.

Telouet
An extraordinary place to enjoy some of the best Islamic architecture in Morocco with famous pink salt mines the town seems to be frozen in the last century shrouded in history from Jewish, French and even slavery Telout is a mysterious place to be explored.

Zagora
A previous dessert outpost where caravans would pass through and where Saadians begun their expedition to conquer Timbuktu in 1591 its still holds onto its traditional routes even following a government beautification project offering souks and a cosmopolitan character.

Taroudant
A market town with many souks and squares providing a healthy feeling of mystique hidden within magnificent red mud walls with the peaks of the snow-capped high Atlas Mountains in the distance stroll the streets enjoy a cup of tea and see every day Moroccan life.

Mirleft
Previously a small village it is now becoming a tourist destination offering paragliding, beaches, cafes and hotels very popular amongst young Europeans historically popular amongst musicians and artists its now a developing cosmopolitan spot.

Agadir
This is Morocco's premier destination for sun and sea offering 300 days of sunshine, clean golden beaches and a stunning beachfront promenade the city is cleaner and orderly differing from other Moroccan cities.

Beni Mellal
One of the fastest growing cities in Morocco a great place for adventures or a stopover between Marrakesh and Fez with the Ouzoud Waterfall something to add onto your touring Itinerary. The city offers many souks a medina with Music which is especially unique to this area of Morocco a place great for hiking within the middle Atlas Mountains.
---